The term "awning" can be found in many areas of human activity. Usually it is understood as a hinged cover that protects certain objects from the sun and rain. Awnings are stretched on a special support – a frame. Depending on the intended use of these coverings may be made of different materials.
What do awnings are made of
The most durable material for awnings is considered to be PVC. Thanks to the three-layer structure and high density (on average 650 g/m2) it can withstand any rain, hail or snowfall.
The advantages of PVC material:
Resistance to high and low temperatures (from -30 C0 to +70 C0);
Maintaining elasticity in any weather;
Absolute water resistance;
Long service life – from 5 to 10 years (depends on the expediency of use);
Absence of ruptures at high tension.
Another popular type of material is a tarpaulin awning it is less dense (480-540 g/m2), but good air permeability. To improve the protective functions of tarpaulin fabric is treated with water-repellent or fire retardant impregnation.
In addition to the above two, it is also worth noting these types of materials:
Awning fabric – seasonal coverage, provides reliable protection from the scorching sun and rain. The density is 200-240 g/m2. This type of fabric is lightweight and flexible, which greatly simplifies installation and dismantling;
Marquise fabric – a beautiful and elegant covering, often used by designers to create a festive atmosphere;
Polypropylene – waterproof canvas with a density of 90-130 g/m2. Eco-friendly material that provides reliable protection from any precipitation.
The choice of a particular type of material depends primarily on the scope of application. Somewhere more valued density, somewhere you need to cover a good air permeability. Further we will consider the basic industrial and residential use of awnings.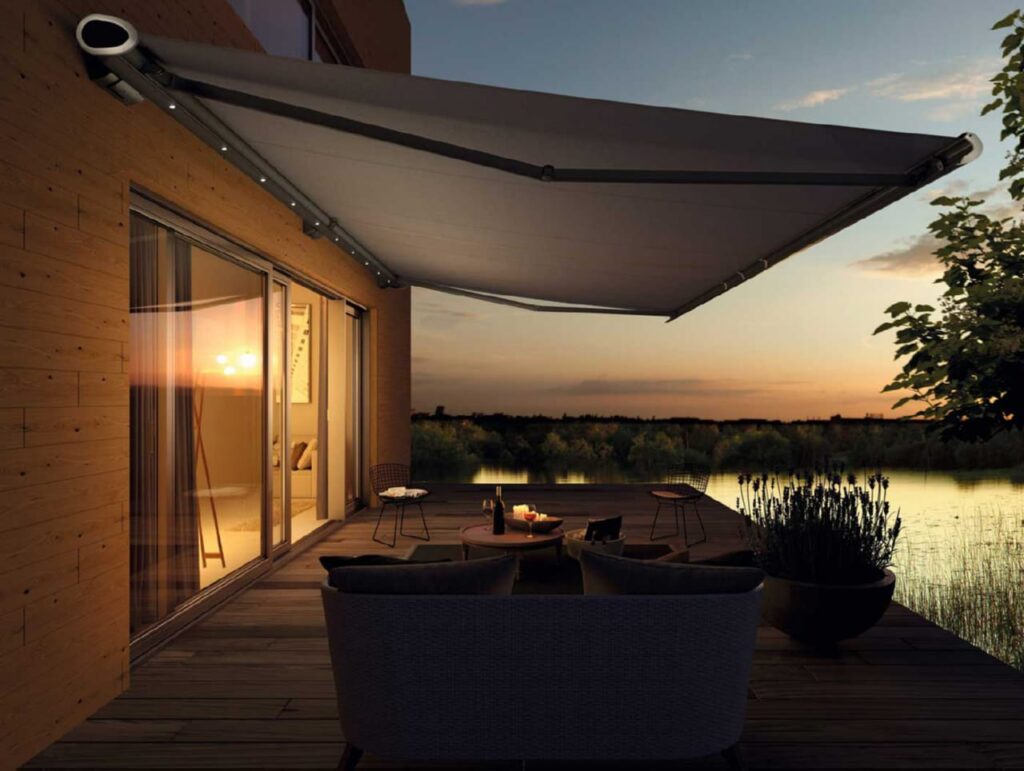 Applications of awnings
Awnings are used wherever it is necessary to arrange a hinged protection from direct sunlight, wind and precipitation, and wherever there is a framework for it. In order to ensure the safety of goods, such covers are widely used in the field of cargo transportation.
Awnings for trucks, frame cars and light trailers
To protect bodies and trailers, either dense PVC material or tarpaulin is used. Both options are advantageous from an economic point of view, since they are much lighter in weight all-metal cover. In addition, awnings are quite variable in terms of customization. For GAZelle, for example, you can make a cover with two flaps, which will allow the unloading through the side. In Ukraine you can order a awning and its installation is possible in the company Ukrbresent.
Awnings for awnings, gazebos and garden swings
Designs from this category are used mainly in the warm season. Therefore any type of material will do as a awning. Given the fact that gazebos and awnings complement the exterior of the territory, it is necessary to consider not only the practical qualities of the awning, but also its external characteristics. Most often, coverings for recreation areas are made from PVC, awning and awning fabric, as they look presentable and have a wide color palette.
Covering awnings
This type of awnings is designed to cover construction materials, agricultural products, swimming pools and other demanding things from the weather. A frame is not needed in this case, the canvas is placed directly on the site. Usually the following products of convenient size are used for this purpose:
Canvas camper awning with a density of 480-540 g/m2;
Polypropylene awning (tarpaulin) with a density of 90-130 g/m2;
Burt awning. Can be made of PVC (650 g/m2) or banner material (510 g/m2);
PVC camper awning (650-900 g/m2).
Awnings for construction works and snow removal
Construction work involves compliance with many technological norms, including those related to temperature conditions. Therefore, for such tasks using insulated awnings (termoawnings). They consist of several layers. The outer layers are made of PVC or tarpaulin. The inner ones are made of sintopon (150 g/m2) or polypropylene (with or without foil).
Tarpaulin for snow removal is used mainly on construction sites. The principle of operation is quite simple. At the end of the day job site is covered with a awning, the morning canvas is lifted by crane, and in a few minutes the snow is removed. For the manufacture of such a awning is usually used tarpaulin density of 520 g/m2.
Awnings serve as a reliable means of protection from the sun, rain and wind. Thanks to a variety of materials their use extends to many industrial and domestic spheres. At the same time awnings are quite a light type of cover, which greatly simplifies the process of installation and dismantling, and in the case of the sphere of cargo transportation even helps to save on fuel.